We'll be at the luxurious
Tabacón Thermal Resort and Spa.
This retreat is perfect for those who are craving an immersive, educational and transformational experience.
The resort is literally in the middle of a lush rainforest with sounds of nature all around.
You might even see toucans, a sloth bear or spider monkeys climbing a tree! Specifically, the resort is at the base of the majestic Arenal Volcano.
One of the amazing features of Tabacón is its Thermal Hot Springs, which flow directly from Mount Arenal. This natural hydrotherapy is will help you achieve optimal relaxation. All of Tabacón's water is true thermal water, naturally heated by the volcano and slowly mineralized, underground.
When it comes to food, their restaurants are world-class. They'll leave you wanting more at every meal.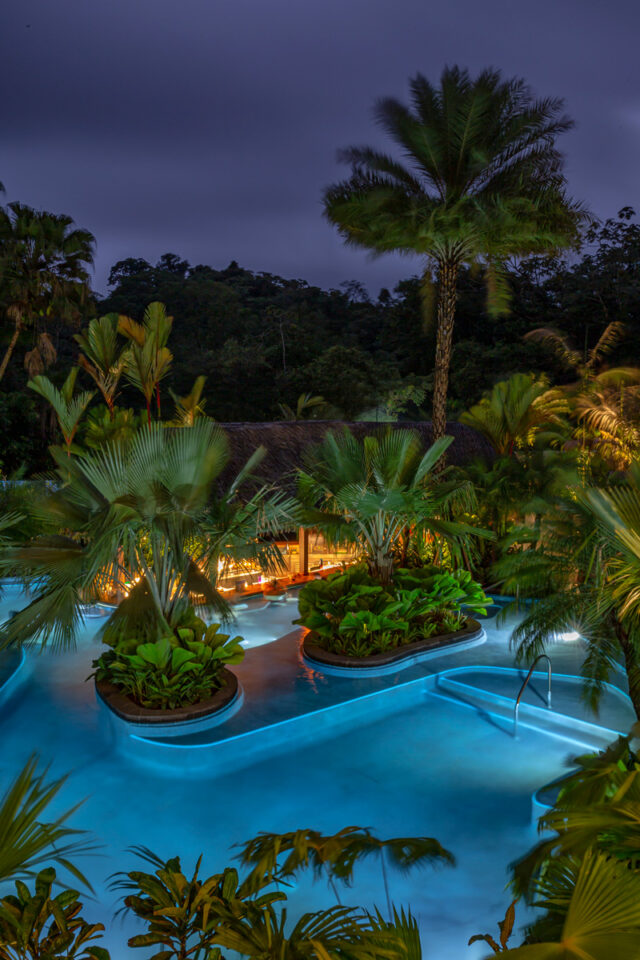 Driving directions from ...
Juan Santamaría International Airport (SJO) in San Jose
Take the Inter-American Highway North to San Ramon. Exit at San Ramon and drive through town. Continue past Los Angeles, Balsa, Bajo Los Rodríguez, Santa Clara, Javillos, El Tanque. Once in La Fortuna, stay on the main street to Arenal Volcano National Park. Continue for 8 miles (13 kms) to Tabacón.
Daniel Oduber International Airport (LIR) In Liberia, Guancaste
Drive east to Liberia. Turn right (south) towards Cañas / San José on the Inter-American Highway Turn left in at the Cañas exit and follow the signs to Tilarán. In Tilarán turn left in the main intersection towards Arenal Lake. Continue around the Lake past Arenal Dam. Drive for approximately 15 minutes to Tabacón.
For assistance with coordinating transportation to & from your preferred airport, please contact claudia@bwenterprise.net.
Resort
Location
Tabacón Thermal Resort & Spa
Located in the northern region of Costa Rica, at the base of the Majestic Arenal Volcano, 8 miles northwest of La Fortuna. GPS Coordinates - 10°28'43.18″N | 84°44´07.62″W